Much of the U.S. has been instructed to stay at home for at least several weeks to prevent the spread of the COVID-19 virus. In consequence,  many of the businesses are now closed, grinding the economy to a gut-wrenching standstill and forcing millions into unemployment. 
With so much time to kill, people are seeking more and more feel-good distractions. One guy on tweeter said: "It feels like Vegas in my house. We're losing money by the minute, alcohol is acceptable at any hour of the day, and nobody freaking knows what time it is."
To top that, social distancers are now hosting social zoom happy hours with no limits for the last calls. According to the latest sales data, Alcoholic beverage sales rose by 55% in March, when many state governors and public health officials enforced residents to play safe and stay at home.

The unfortunate part about consumption is that alcohol, especially heavy drinking, weakens the immune system and consequently lessens the ability to cope with infectious diseases. It is also known that alcohol alters our mind, judgment, decision-making, and behavior. 
For many of us trying to pass through these challenging times, alcohol consumption is a means of relief; nevertheless, the effects of heavy drinking and hangovers can actually induce strains and rise stress. Alcohol is classified as a depressant, meaning that it slows down brain functioning and neural liveliness. 
But there is hope! A new study shows that drinking 220ml of Korean pears juice can lower your blood alcohol levels and prevent hangovers, according to the Australian Commonwealth Scientific and Industrial Research Organization (CSIRO). 
The other alternatives to Asian pear can be H-PROOF, a black cherry chew you can take after your last drink.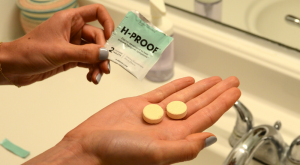 Real reviews:
"My husband and I now *really* look forward to opening a bottle of wine after we shut down our work, whether it's because we have a virtual happy hour or we're just done with the day. Even though we each only have a few drinks, we noticed we didn't feel great in the mornings, so we started looking for a hangover cure or something that would help us detox. We found H-PROOF and I have to say, it's a great product that works (and I personally really love the taste). No need for morning recovery time — we both wake up feeling really good!"
"I can't believe it worked! Nothing but a lot of rest works for me to recover after a decent wine night :). This product made me function and gave me the morning recovery I've been looking for a long time. I took both tablets after about my third glass of wine."
"Great hangover prevention product, it saved me from a bad morning yesterday. This is the third brand I tried so far and it beats the others. This one can be taken multiple times during drinking if you're consuming a lot. The price is not bad either considering it saves you from a lot of wasted time recovering from a hangover after a fun night. Cheers!"
Price: $28.95 (Amazon)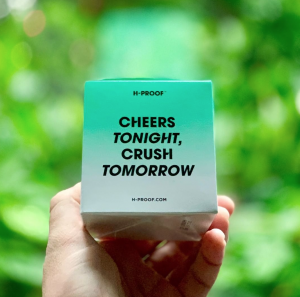 The best advice here is while remaining in social distancing and quarantine, employed or not, adhere to the typical workplace rules and try not to drink. Remember that during the day you should still be in a fit state to operate – and that is not conceivable if you are under the influence of alcohol.